Jaipur the pinkcity of Rajasthan was famous as Paris of Asia amongst Europeans. Jaipur is a beautiful city set amidst mountains. It is part of famous triangle of India. Jaipur is easily reachable from all over India due to its flight connectivity. The Pinkcity of India also boast of International flights from major destinations like Dubai, Thailand, New York, Paris, Singapore etc.
The air of Jaipur is filled with romance and love. Royalty reflects in its culture. A city with world heritage sights is a perfect place to plan your destination wedding. Jaipur is a conglomerate of beautiful weather, architecture, heritage, loads of shopping and a peaceful surrounding. Jaipur people are peaceful and serene. The city has the influence of metro life as well as maintain its deep rooted culture.
Jaipur houses some of the most popular jewellery houses of India. Designers from all over the world get their designs developed in the heart of Pinkcity.
If you want to shop for your royal wedding Jaipur boast of its magnificient handwork royal cloth showrooms and boutiques owned by renowned designers.
So why wait to plan your destination wedding in Jaipur. Famous film director J.P. Dutta recently held his children wedding at none other than the Rambagh Hotel of Jaipur.
Jaipur has hotels of all range depending on your budget. In this article I am mentioning the few most luxurious hotel to host your wedding in India.
1. Rambagh Palace, Jaipur
Rambagh is one of the big fat Indian wedding hotel of India. "Rambagh Palace was built in 1835 on a modest scale for the queen's favourite handmaiden Kesar Badaran, It was refurbished as a royal guesthouse and hunting lodge. The mansion was renamed Rambagh, after the then reining Maharaja Sawai Ram Singh II. The heritage Palace also has the history of being the residence of Maharaja Sawai Man Singh II and his beautiful queen, Rajmata Gayatri Devi. Rambagh Palace is a living legend of Rajputana history. "
You can check the prices by clicking here. For group bookings you can directly connect with the hotel.
2. Jai Mahal Palace, Jaipur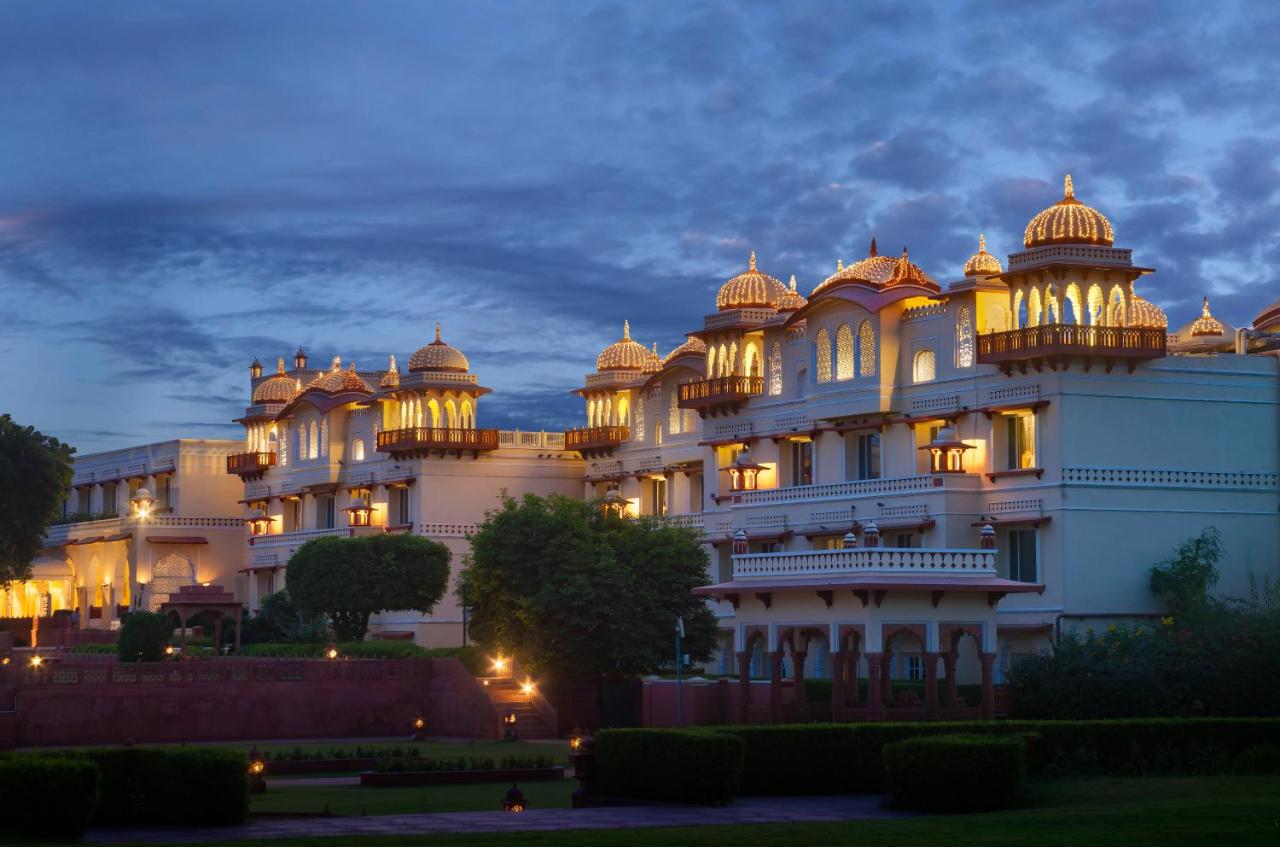 The property is located close to the shopping arcades and historical monuments, Jai Mahal Palace is an ideal hotel for exploring the fascinating city of Jaipur. The royal palace, a huge landscape with regal rooms, handpainted with gold pavilions and charming colonnades with a beautiful charismatic chess court, traces its origins to 1745. The heritage palace has been restored and refurbished to offer its elite dignitories the exclusive experience of a royal rajputana lifestyle complemented by undoubtable Taj hospitality.
An estimate of room rent can be taken from here . For wedding package you can contact the hotel directly.
3. Oberoi Raj Vilas Resort
The Oberoi Rajvilas is a royal resort set in a breathtaking thirty two acre oasis of beautiful landscaped gardens, filled with exotic birdlife. The resort is built around an 18th century Shiva temple which affords chanting with a Hindu priest, meditation and morning yoga. The Oberoi Rajvilas is a haven of mystical peace and natural serenity.
It is an ultra luxurious property and is a very expensive property for wedding. Hollywood celebrities, big corporates from around the world are their major guests lists. But for the one who wants to make their wedding a life time experience can organise a minimal guest list luxurious and romantic affair at Raj Vilas.
For more details contact here.
4.
The Raj Palace (Small Luxury Hotels of the World)
If you are planning to do a only for your wedding luxury hotel then this is your best option. You can book the entire hotel for your wedding functions. The hotel is full of splendour and luxury. Royalty reflects from each and every corner of the palace. Raj Palace is amongst the hustle bustle of four walled pinkcity and gateway to Amer. The palace boast of hosting many royal destination weddings in Jaipur.
For checking price and availabilty click here. For Booking entire hotel contact
5. The Leela Palace, Jaipur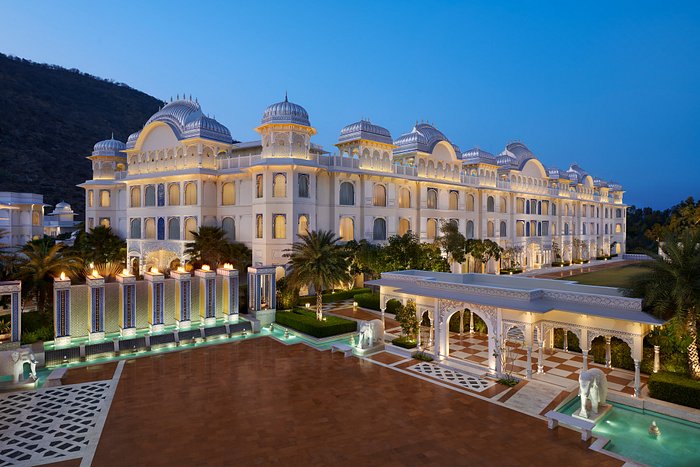 The Leela Palace is the new entrant in luxury hotels in Jaipur. It has agnificient architecture and modern amenities. The resort is set away from the city .
Drawing inspiration from Rajasthan's royal heritage, The Leela Palace Jaipur is an elegant reflection of modern palatial grandeur and an epitome of true Indian luxury. Located amidst tranquil environs near the Amber fort on Delhi-Jaipur highway, the hotel is set on over 8 acres of landscaped gardens, against the majestic backdrop of the Aravalli range.
 Within easy driving distance from Delhi, it offers a serene and tranquil vantage for the discerning traveler to discover the Pink City in all its glory… its fabled past and its vibrant present. Promising unparalleled luxury, this is where timeless traditions meet contemporary sophistication, peppered with thoughtfully curated immersive cultural experiences, celebratory rituals and distinguished taste making, all delivered with the warmth and graciousness of Indian hospitality.